Both of our stores feature a wide selection of cow, goat and sheep milk cheese, from traditional European varieties to Massachusetts specialties.
Our selection of Massachusetts cheeses includes picks from outstanding local producers such as Chase Hill Farm, Great Hill, Thomas Farm, and Westfield Farm, as well as Smith Country, Grace Hill, Cricket Creek and Shy Brothers. We also specialize in cheese from farmer co­operatives, including Cabot, Organic Valley, Jarlsberg, Gjetost, McCadam, Tillamook, and Panteleo from Italy.
Don't miss our monthly Cave to Co­op specials! This initiative is a partnership of regional artisan cheese makers, our cheese supplier Provisions International Ltd., and the Neighboring Food Co­op Association, a co­operative of over twenty food co­ops in New England, including Franklin Community Co­op. Look for the "Cave to Co-­op" sign in the cheese case for the featured cheese of the month, offered at a special low price — usually 25­-50% below than the regular retail price. It's a great way to try some outstanding regional cheeses at much lower than usual prices! We also have a selection of everyday cheeses priced at under $10/pound.
For information on cheese platters for your next event, see our catering menu.
The meat department features a wide selection of local, domestic, and imported products you'll find in our fresh and frozen cases.
In 2010 our Green Fields Market store was recognized as having one of the top performing meat departments of the year by the National Cooperative Grocers Association!
Our goal is to provide a selection of antibiotic, hormone, nitrate and nitrite-­free meats. Grass-fed, humane treatment and use of sustainable practices are also priorities. For years we have carried Wheelview and Foxbard Farms grass-­fed beef. Foxbard Farm raises Black Angus and Wheelview primarily has Belted Galloway. Over the years we have been able to add locally produced and raised meat from Spence, Leyden Glen, Sprindelle, Bascom Hollow, Robariah, Songline Emu, Diemand Farm, Many Hands Organic Farm, Black River Meats, Bostrom Farm, North Country, Vermont Smoke & Cure, Misty Knoll, and Stonewood Farm. That's a full herd, school, and flock of local offerings!
HOLIDAY TURKEY ODERS:
This year we'll be offering two great options for your holiday table!  Local turkeys from Diemand Farm, just down the road in Wendell, MA, and, organic, certified non-GMO birds from Mary's Turkeys.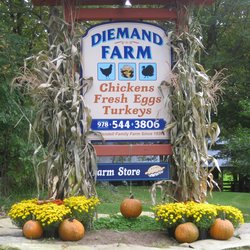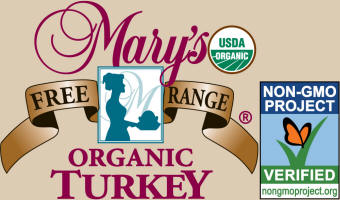 Family owned since 1936, Diemand Farm turkeys are raised free-range, are provided with deep-spring well water and are Hormone and Antibiotic Free.
Mary's Turkeys has been family owned and operated since 1954, taking to heart the importance of animal husbandry and their responsibility to protect the welfare of animals.  Mary's Free-Range turkeys are raised on healthful grains and have freedom to move about.  Their high-protein diet provides the optimal amount of nutrients for the birds to grow into bigger and more flavorful turkeys.
Pre- order sheets are available now for you to reserve your holiday turkey at our customer service desk.  All orders are on a first come first serve basis.
For additional questions please contact our meat department manager, Kim Nyiri, at 413-325- 8819.
Contact Kim, Perishables Manager